News from
Ukraine
A letter from Fr. Andriy Rak, C.Ss.R., provincial superior of the Lviv Province written at the start of Russia's invasion.
We publish the overview of the current situation and the response of the Ukrainian confreres to the humanitarian criris caused by Russian aggression, provided by Fr. Andriy Rak, C.Ss.R., provincial superior of the Lviv Province, in his letter sent in the morning on February 27.
Dear sisters and brothers, Dear friends!
Since there are a lot of messages and letters with words of support and at the same time with questions about the current situation, I am sending you this short info letter.
On 24 February 2022, we woke up in Ukraine in war…
On 24 February 2022 at 4 am (CET), Russia attacked Ukraine with ballistic missiles and multiple rocket systems from many different directions from abroad: from the territory of the Russian Federation, as well as from the territory of Belarus, the occupied Crimea and occupied Transnistria.
Russia started a terrible and crazy full-scale war against Ukraine and its people just because we strive for the development of democracy and human values in our country and don't want to live like them. As one Ukrainian journalist said, it is not scary to die – it is scary to live such an insignificant life as the occupiers.
February 27, at the beginning of the fourth day of this war, Kyiv, the capital of Ukraine, remains a priority for the Russian occupiers, fierce fighting continues across the country, especially in the north, Charkiw, Mariupol (east), and Kherson region (south) of the country. In the west, there are isolated sabotage attacks. Russia is trying to take control of Kyiv – shooting residential homes and military installations. All types of weapons are used.
In the last days, it seems the Russian Armed Forces were starting to actively use saboteurs and paratroopers and a change of tactics dictated by their unsuccessful initial push to strike quickly with long columns of military vehicles and equipment.
Obviously, the Russians hoped for Blitzkrieg and the rapid success of the military campaign. There are reports from some regions that Russian soldiers are unable to move due to a lack of fuel, which they are trying to obtain locally. They also demand food from the locals.
In large cities, saboteurs have been recorded, who mark the gas pipes of residential buildings and city infrastructure for further attacks from the air or shelling.
It is painful and difficult to understand that Putin and his entourage started a war that takes the lives of many military and civilians. It destroys the lives of many, causing irreparable physical and mental trauma. However, the Ukrainian military is defending their land, their children, relatives, friends and their future. These days the active support of the Ukrainian military by civilians and volunteers has increased tremendously.
As a result of the actions of the Russian occupation forces, 1,115 people were injured, including 33 children. Another 198 people died, including three children.
The current number of destroyed Russian soldiers has exceeded 4,500. More than 300 interventionists were taken prisoner. It is impossible to believe because the Russian authorities use their military as cannon fodder. Three days into the war against Ukraine, Russia's Defense Ministry has yet to report any losses, both in terms of military personnel and technical equipment[1]. In addition, the President of our country asked the UN and the Red Cross to help deliver the corpses of Russian soldiers back to their lands.
Today Ukraine has officially filed a lawsuit against Russia in the UN International Court of Justice in The Hague.
It is now reported that Belarus is likely to join the war on Russia's side. Lord, save.
Unfortunately, the aggressor destroys both buildings and people without restrictions: Russian troops are firing also on residential housing, hospitals and schools.
Children's toys, mobile phones, and valuables filled with explosives were dropped from the plane in Sumy Region (north Ukraine) today.
This is the «Russian peace» in all its glory.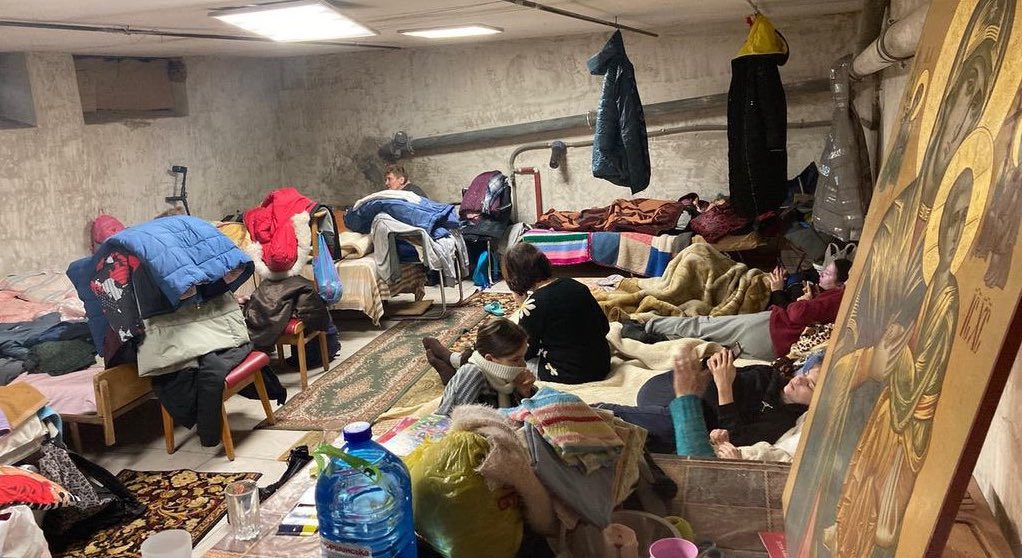 What we do
As Redemptorists and consecrated persons, we try to support people through conversations, confession, and prayer in these difficult days. People come to churches and our monasteries out of fear and seek support.
Our confreres remain in Tschernihiv (north Ukraine) and Berdyansk (east Ukraine), where they support the local people with prayer and deeds. They take care of refugees and provide safe shelter for local civilians.
Meanwhile, thousands of Ukrainians seek safety in Romania, Moldova, and Poland as they flee the Russian invasion. We are trying to provide temporary shelter for refugees in our monasteries. Most of them travel abroad. As a result, there are long lines on the border with Poland.
Our priests, together with the laity, deliver food and basic necessities to people who have been waiting for hours to cross the border.
As of today, Poland has received about 100,000 refugees from Ukraine. In total, the number of refugees is estimated at more than 150,000 people who have left for the European Union in the last three days.
Special thanks to the Republic of Poland for its openness and support during this difficult time. On the border with Ukraine, Poland has established 9 reception points for refugees and then sent them to places of temporary residence.
International support and humanitarian aid
Ukraine is defending itself against Russian aggression. Undoubtedly, this is difficult, but feasible protection would be impossible without outside help and support. Therefore, we sincerely thank you all for all the support and nonbeing indifferent! May God reward your engagement!
Active hostilities aggravate and destroy the humanitarian situation of the civilian population.
As Redemptorists, we try to use our resources to help needy and affected people. If you have the desire and ability, we will be grateful for your financial support.
Thank you all very much and we remain in prayerful unity
Fr. Andriy Rak, C.Ss.R.
Major Superior of Lviv province
[1] https://meduza.io/en/feature/2022/02/26/unreliable-at-best
Some sources about the situation in Ukraine
Due to cyber warfare, much fake news is spread on TV, social networks, and on the Internet. Our confreres from Ukraine recommend that you check the information.
https://www.ukrinform.net/ (multilingual)
https://www.pravda.com.ua/eng/ (English)
https://censor.net/en (English)
https://www.rferl.org/ (English)
https://meduza.io/en (English) – Russian opposition web source 
https://charter97.org/en/news/ (English) – Belarusian opposition web source