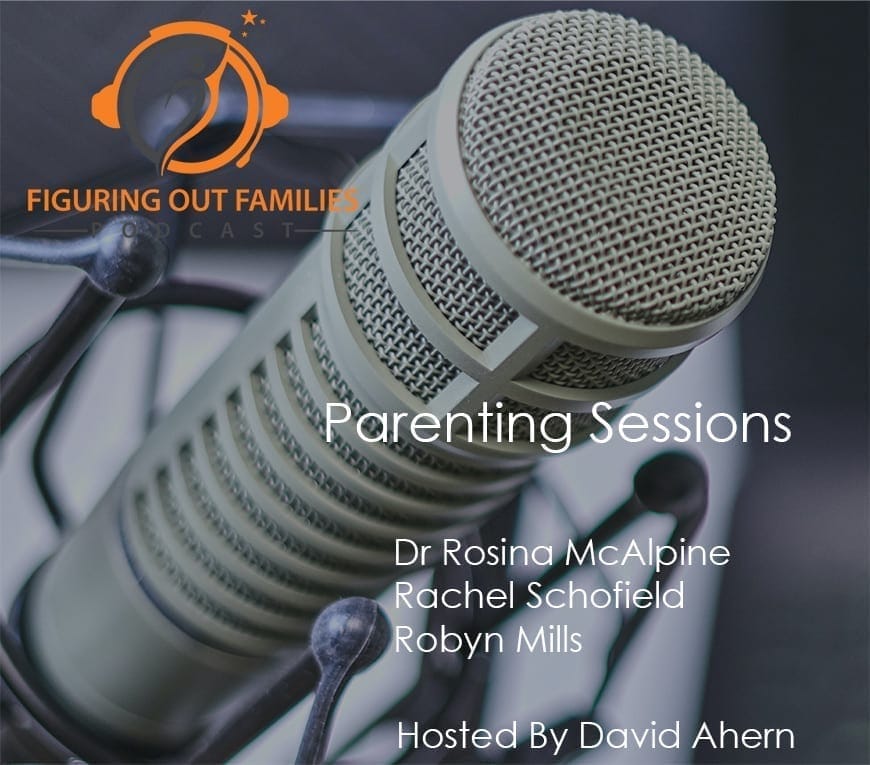 Parenting
Sessions
Podcasts that help make your family the best it can be.
Practical Advice on Parenting
Figuring Out Families aims to help families to be the best that they can be. We interview experts in the field who provide practical advice and tips to help couples with their relationships and raising their children.
In our podcast series, Parenting Sessions, we are joined by:
Dr Rosina McAlpine.  author, parenting expert and CEO of Win Win Parenting.
Connect with Dr Rosina at DrRosina.com or WinWinParenting.com
Rachel Schofield, Parent Coach, Family Counsellor, and a Professional Member of the Australian Association of Family Therapists 
Connect with Rachel at rachelschofield.com
Robyn Mills who has a PhD in Psychology and 45 years experience as a health professional, including as a psychologist and Life Skills educator. 
Connect with Robyn at drrobynmills.com
In each session we provide valuable advice and tips on how families can manage their lives with more confidence and with less stress, resulting in better outcomes for children and a more peaceful family home.
Parenting Sessions
Getting back on track after the pandemic – Parenting session with Dr Rosina McAlpine
In this episode of our Parenting Sessions Series, we talk to Dr Rosina McAlpine who's an author, parenting expert and CEO of Win Win Parenting. Rosina talks about how families can get back on track after the pandemic. The physical, emotional, social and mental wellbeing of people has been tested big time over the past two years and she says many families have also suffered big financial losses. Rosina provides some timely tips on what families can do to improve their lives and overcome the challenges caused by COVID-19.
Visit www.majellan.media for more great podcasts on family, parenting and relationships.
Find out more about Dr Rosina and win-win parenting on her website here
—
Send in a voice message: https://podcasters.spotify.com/pod/show/figuring-out-families/message
In this episode of our Parenting Sessions Series, we talk to Dr Rosina McAlpine who's an author, parenting expert and CEO of Win Win Parenting. Rosina talks about how families
[...]
14 April 2022
In this podcast, Dr Robyn Mills talks about the benefits of positive thinking and how to free ourselves from the shackles of past negative influencers. Robyn has worked in the
[...]
23 June 2021
Rounding off Rachel's sessions on building sibling relationships and strengthening family bonds in this session she provides more great ideas to help siblings grow and thrive together. In the podcast
[...]
25 May 2021
In this latest Parenting Session podcast we talk to Robyn Mills about the special love grandparents have for their grandchildren and how they can teach a child about love. Robyn,
[...]
12 May 2021
Give your kids the best start in life. In this Parenting Session Dr Rosina McAlpine explains how a child can function more effectively through diet and exercise and how they
[...]
27 April 2021
In this Session Rachel explains how to use Giggle Games. These are games to help a child adjust to a new sibling, games to help with sibling squabbles and games to
[...]
14 April 2021
In this Parenting Session Rachel Schofield discusses tensions and issues amongst siblings and helps parents identify the issues that lead to most disagreements and tensions. She then explains practical strategies
[...]
23 March 2021
The teenage brain is an interesting topic of discussion as most parents would agree. Author, parenting expert and CEO of Win Win Parenting, Rosina McAlpine says teens tend to be
[...]
18 March 2021
In this Parenting Session on Sibling Struggles, Parent Coach Rachel Schofield talks about sibling rivalries and what leads to conflict in the home. She says some families experience more problems,
[...]
11 March 2021
In this important parenting session we welcome Rachel Schofield who talks about the positive results that can come from a solid relationship between siblings. She also explains why so many
[...]
3 March 2021
Reflect on your family, in particular your grandparents influence in your life. For many of us grandparents have had a big influence on our lives. But this can often be
[...]
16 February 2021
In this Parenting Session on Bullying we introduce Dr Robyn Mills, a grandmother of five who has worked in the health field for 47 years in areas such as psychology,
[...]
10 February 2021
Win Win Parenting. In this Majellan Parenting Session with Dr Rosina McAlpine we explore Win Win Parenting and how it supports parents to successfully navigate through the ups and downs
[...]
28 January 2021
In our new podcast series, Parenting Sessions, we interview Dr Rosina McAlpine, who is an author, parenting expert and CEO of Win Win Parenting. Win Win Parenting supports parents to
[...]
11 December 2020
New Parenting Sessions with parenting expert Dr Rosina McAlpine In this Figuring Out Families podcast we talk to Dr Rosina McAlpine, who's an author, parenting expert and CEO of Win
[...]
3 December 2020
Search Results placeholder